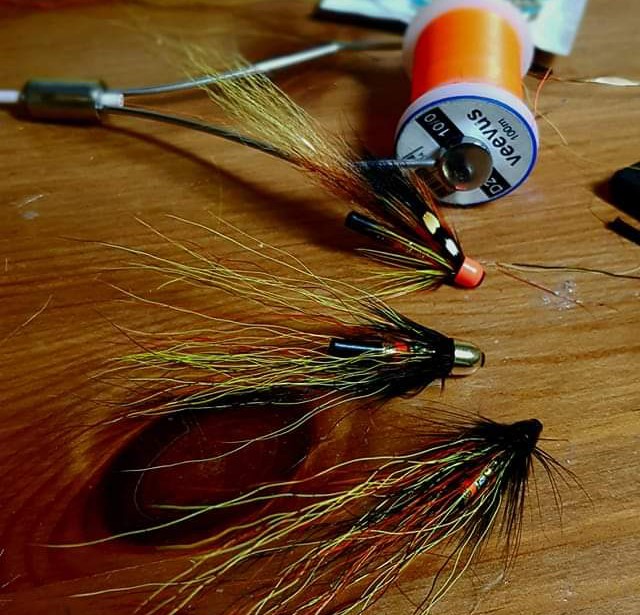 WICK River – October 2020
Well, that's the curtains drawn on what must be the strangest fishing season of our lives!! Between Covid 19 and drastically low water conditions for most of the season, we have had it all to contend with for sure. But, as the saying goes, good things come to those who wait, and at the start of October the long awaited rains arrived and with it some superb fishing.
There were too many fish landed to name all who caught, but I will give you a flavour of the action.
Between the 5
th and 12th of October we have had returns of 161 salmon, with more known still to be added to that total. Gordie Morrison (2), Geordie Doull Jnr and Evan Sinclair, all had fish knocking on or over 20lbs. Geordie also landed another 24 fish that week closely followed by Evan with 24 in total. Other anglers who fished well were Gordie Morrison (15), Ian Cormack (14) and Jimmy Macadie, also 14.
It was good to see visiting anglers getting in on the action also. Sandy Kerr from Orkney, had 8 over his two days, Ex Weeker, Keith Webster landed 6 and lost as many more, David Johnstone and Chris McWilliam from the Dingwall area had 5 and 3 respectively, Jock Young landed 4 for his day, Duncan Laird 3 and Ross Mackay also 3.
Fish were seen in great numbers, right from the top of the river, downwards and many anglers remarked that they had never seen so many fish in the river. Obviously, this bodes well for the fast approaching spawning period. We await to see what our season total will be, but the last week has undoubtedly given it a big boost.It remains to be seen what next year will throw at us, but hopefully the Covid situation will improve and also we pray for much more rain than we experienced this year!
Members are requested to ensure their permits are returned by the end of October, suitably filled in where appropriat

e.
Wick River – September 2020
Still we await the elusive spate!! The river has been running on its bare bones for the last couple of months. Welcome rain fell on the last day of September but disappointingly has had little effect on the water level. Hopefully, there is much more to follow soon. The Gods certainly have not been smiling on this area so far as fishing is concerned and we find the season drifting away on us.
Our one saviour has been a few days of fresher weather, which along with a good breeze of wind gave some sport to the few members that ventured out. Among the anglers to score was, Richard Newlands who landed 3 fish in a day and lost two more, Geordie Doull Jnr carried on where he left off last month with a few more fish, as did Jimmy Macadie & Brian Shand. Will Ross & Ian Ross also chipped in with a couple. Saturday the 26th was a good day for Jimmy Macadie, with four fish from the Strath and visiting anglers Neil Barnett and Alasdair Lawrie landed a fish apiece from Tarroul. There were reports of a few more being caught the same day throughout the river.
Unfortunately, we had an incident and a report of several dead salmon and trout having been found in the lower reaches of the river. These fish appeared to be in perfectly healthy condition, with no apparent sign of disease. There was no other evidence of dead fish anywhere else in the river and fish were seen swimming about quite happily just above the area of where the dead fish were found. Although nothing has yet been proven, we can not discount a poisoning or localised oxygen removal causing the deaths of those fish. SEPA and the Police have been informed and fish retrieved for sampling.
The fishing on Wick River runs on to the 12th October and given water, sport should be quite brisk. October is completely catch and release and barbless hooks should be used to give the fish being returned the best chance of survival. There would appear to be a good head of fish in the river and this should mean a good spawning season, which in turn will hopefully translate into good fishing when the mature fish return.
Members are reminded that permits should be returned, along with catches, by the end of October.
Wick River –  August 2020
It has been hard going since the beginning of August, with the river constantly running at a summer low level. We have only heard of around 8 salmon landed this month and anglers are really struggling to cope with the conditions. Somehow Geordie Doull Jnr. managed to defy the odds to land four fish during the month.
A special mention must be made to Martin Clark and Party, who travelled up all the way from England to fish the river for a week, only to be met with the dreadful fishing conditions. It's not often you'll hear of tourists complaining about too mush sun in the North of Scotland, but that was the weather Martin and his pals encountered  for much of their week, along with a river running on its bare bones. To their credit, they did not let this spoil their holiday too much and proved perseverance does sometimes pay off, with Martin landing a fish on the Wednesday and two more lost by others in the party, all on the same day. Hopefully, next year will bring better conditions for you lads!
Thankfully, the Wick has managed to stay largely clear of the disease that is seriously affecting some of the north rivers. Why that should be, we have no idea, but we must be thankful that, so far at least, we have been spared the agony of seeing fish cover in fungus and gasping their last breaths.
Looking ahead things look good. There are still fish in the bay and estuary waiting patiently for water. Here's hoping the weather breaks soon and we at last get water that it is a pleasure to fish in.
River Report -July 2020
The first week of July saw around 20 fish landed, mostly grilse in the 3-5lb range. Due to the low water conditions, most of the fish fell to the bait and in the main from the Watten area. Among the lucky anglers were, Jimmy Macadie, with a fresh 10lb salmon, Richard Newlands, George Mackay, Ian Swanson, Geordie Doull Jnr, George Doull Snr, Otto Mathiesen, Graham Shepherd & a special mention to Diane Mathiesen, with her first ever salmon landed at Bilbster.
The following week a good run of fish entered the river. Again, it was the Watten area that most fish were coming from, with the Pot and Mill Stream producing fish every day. Ian Swanson landed four fish at 12, 10, 5 & 4lb, Brian Shand took three plump grilse all around the 4-5lb mark. Bill Baxter had three in a day from Kitty Gow's and the Mill Stream, Alan Farquhar landed his first fish of the season on fly at 4lb, as did Gavin Sinclair with a fine 13lb fish from the Longshank. Geordie Doull Jnr. Chipped in with three fish and his father, George Snr. also managed a fish or two that week. Some of the other anglers to score were, Brian Thacker, Peter Robertson, Donald Miller, Donald Rosie, George Mackay, Colin Richard, David Barnetson and Mark Wilson. Lower down the river, Donald Newlands landed two from Shepherd's and Will Ross had two from the Low Reaches as did William Newlands.
As the water dropped back so did the sport with one or two being picked up, mainly from the Low reaches. An eight inch rise brought in more fresh grilse during the third week of the month and brisk sport was had by Kevin Sinclair (3 in a day from the Strath), Ross Macadie , Evan Sinclair Ian Swanson had two apiece, as did Donald miller and Gary Gordon. Visitors Duncan Mackay and Alfie Sinclair also managed to add to the total.
Heavy rain on Monday the 27th gave a good water height of around 2 foot, the Tuesday was a bit of a bonanza day with almost everyone fishing catching fish, too many to mention here. Around 60 fish were landed on the Tuesday and a further 20 or so on the Wednesday as the water dropped back.
All in all it has been a good month, given that we were not blessed with great water conditions for most of it, but nevertheless fish were running and taking in good numbers. Looking ahead we have every reason to feel confident of further good catches, given decent fishing conditions.
River Report – June 2020 
 As previously reported, Jim Hindmarsh got our season underway on the 1st June with a fish of 4.25lb, caught in the Bridge Pool in the Low River. This was followed up with a 10.5lb fish on the 5th, landed by Richard Newlands from the Pot Run. On Saturday the 6th, we had a small dirty spate just over a foot, and by the second half of the day the water had cleaned up enough for James Ross and Brian Thacker to catch a fish each at 11 & 10lb respectively. 
The following week started promisingly, with a few fish caught on the Monday and fish being seen running into the pools. Donald Miller (8lb) Richard Newlands &  Evan Sinclair (both 10lb), John Farquhar 12lb & Ian Ross with two fish (10lb & 3lb) were the captors. The following day, new member Sean Redmond landed a fish of 10lb. On the 9th June two fish were caught. The first a fish of 12lb landed by Mark Wilson from the Mill Stream, and the second by Jim Hindmarsh, from the Pot, weighing 10lb. This was followed on the 10th by a fish of 15lb on the fly, landed in the Pot by Raymond Ross. On the 16th David Barnetson landed a 4lb grilse in the lower river, which had sneaked in on the tide.
On the last day of the month, following a small rise in water level, four fish were landed. Jimmy Aitken (The Pot), Richard Newlands (Lower Strath) and Donald Newlands, with two fish at Bilbster were the lucky anglers.
Fish are now being seen regularly in the River harbour and given decent water levels, the outlook for July is promising. Thankfully, we have not seen any evidence of disease which is blighting some other rivers in the north. 
We would like to thank anglers for completing catch reports on our website, and to date most of the fish landed have been recorded this way. This greatly helps in keeping members up to date on catches and for completing the monthly river report and we would encourage members to use this facility as much as possible. It is very easy to use and it only takes a minute or so to complete.
There is likely to be a further relaxation in the Covid 19 lockdown rules from this week. We await clarification from the Scottish Government on what is proposed before deciding what steps, if any, to make in relaxing the availability of permits to visiting anglers. Details of this will be released as soon as any decision is made. 
River Report  – May 2020 
Angling resumed after a slight relaxation of the Covid Lockdown rules on Friday 29th June. Quite a few anglers were keen enough to try the river despite the very low water conditions and a bright sun shining all day. Two fish were reported lost that day, one in the Pot area at Watten and the other in the lower reaches of the river. Some fish were also seen moving in the pools, so all in all it was not so bad as it may have been expected. We thank anglers for following the guidelines published by the association to allow safe fishing and respectfully ask that this continues until further notice. For the time being, the river is open to members only and at this moment we are unsure if or when we will be open for visiting anglers. This will depend on how we manage to work through the various phases that the Scottish Government has set in place. We will keep you informed with any developments as we receive them.
The river finally got off the mark on Monday 1st June, with Jim Hindmarsh landing a small, but perfectly formed fish weighing 4 1/4lb on the bait, below Sibster, on a glorious day of bright sunshine! This is probably one of the latest recorded first fish off the river and is entirely due to the lockdown laws, which prohibited angling from the 23rd March. In truth, we did not miss out on much, as the river was very low for the vast majority of the closed period. Hopefully, we will get a good rise of water shortly and should that materialise, there is every good reason to suggest that we can expect some reasonable sport.
Report 1st May 2020.
Well, who could have predicted how this season was to develop? Following a very successful season in 2019, with a catch of 904 salmon, hopes were high for another good season this year and yet here we are, presently unable to fish due to Coronavirus and lockdown!
The river opened on the 11th February and to be honest, fishingwise there is little or nothing to report. We have experienced over 2 months of drought conditions, so with the river running at summer low levels, very few rods have ventured out for a cast. As a result we are still awaiting our first fish of the season. It would be a brave person that predicts when we may get over that hurdle, with lockdown still firmly in place.
The low water levels has at least benefitted us when distributing stock from the hatchery. 120000 fry have been distributed throughout the river system and this will help augment the natural spawning which took place. As we speak, the smolt migration has begun and we have every reason to be confident that it will be very successful following our electro-fishing results last year, which showed an extremely healthy stock of young salmon throughout the system.
A fair amount of work on bankside repairs and improvements took place in the early part of the year, especially in the Bibster area, with new walkways over ditches and a whin clearing programme. Also a new walkway has been constructed over the burn running from Watten Loch in to the river at the head of the Mill stream.
Hopefully our next report will be on a more positive note with regards to fishing, and with a piece of luck the lockdown rules will be eased to allow some angling to take place. We will announce any changes as soon as we hear of any, both on our website and Facebook page.
STAY SAFE