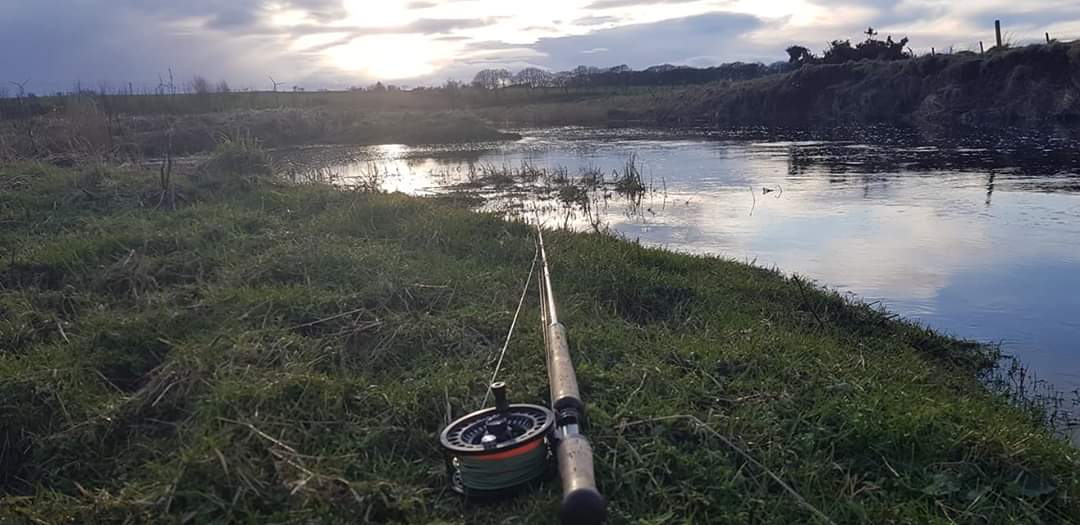 Upper River
The river rises from the Caithness moorlands around 8 miles to the south of Watten. The Rowans Burn and the Kensary Burn flow downwards to meet just above Badlipster and the water then becomes the Wick River. The water from Badlipster downstream to Watten is typical of a small Highland stream, with rocky runs punctuated with many small pools, quite often a fair distance apart. This area is in the main relatively lightly fished but given good water conditions it can fish well from late July to the end of the season. A single handed or switch rod is ideal for fishing this section of the river. Bigger double handed rods give you less scope to fish the small pools correctly.
Middle River
The middle section of the river runs from the village of Watten downstream to the Sibster/Stirkoke area. The most heavily fished area of the river tends to be from Watten downstream to Bilbster Bridge. There you can fish almost continuously without taking your line from the water, with the river running from pool to pool being joined by short runs. This section of the river offers some excellent fly fishing and on the right day anglers can connect with several fish. A short distance downstream from Watten a burn runs from the famous Loch Watten to the river. Although connected to the river, somewhat surprisingly, very few salmon enter the loch, with only one or two having been caught or seen over the past 20 years or so.
Downstream of Bilbster Bridge to Ingimster, the river tends to be slower running, with a steady stream rather than fast flowing runs. This however does not mean it is not fished. Indeed, this area can offer excellent fishing, which lends itself well to both fly and bait tactics. Below Ingimster Bridge you are then in a section of the river known locally as "The Strath". This section is around 2 miles long and again is quite canal like, with little in the way of runs and pools as you'd imagine in a classic salmon river. This area can hold a great many fish and tends in general to be fished using bait due to the narrowness and featureless look to the water, however, given good water height the fly can also be fished here with confidence. Fish can be caught almost anywhere along the length of the Strath.
Low River
The Low River flows from where Haster Burn enters the River at Strikoke downstream to where it enters the sea at Wick. Again, in general, this section tends to be slow flowing and rather canal like. There is good fishing had in this area, especially in the back end of the season and during periods of low water, when fish are unable to run to the top river. Given a good breeze of wind "backing up techniques are recommended. Worm fishers tend to do well in this area also. Fishing ceases at the west side of the Caravan Site on the outskirts of Wick.
Season
The season opens on 11th February and closes on the 12th October. Generally, it is May before the river gets any significant runs of salmon, however salmon are occasionally landed during March and April.
May and June can provide good fishing and the fish are normally a good average size (10-14 pounds). Our Grilse run usually starts around mid-July and excellent numbers of fish can run the river in good water conditions. The run peaks in August, but some fish will continue to enter the river until the season end.
Fly fishing is allowed throughout the season and bait is allowed from 1st April to 15th September and spinning is allowed from 11th February through to 15th May. No prawn or shrimp fishing is permitted.
Wick Rivers 10 year average catch is currently 700 fish per season, This has increased over the last 30 years from around 400 fish and is testament to the work the association has carried out on the river during this period.
Tactics
Wick River is a small spate river and as such there is no necessity for large 15 feet double handed rods. Many members fish single handed rods with great effect and switch rods are gaining popularity all the time. A 12-13 foot double handed rod may be beneficial when fishing in strong winds or when using heavier flies during the spring or back-end. Be warned, Caithness is well known for strong winds!!
The top river runs through the peaty Caithness moorland and this gives the water colour a very dark stain. Therefore, colourful flies such as the Willie Gunn, Alistair, Flamethrower and Ally's Shrimp all fish consistently well during the initial run off after a spate. Once the water clears up, although still very dark in appearance, do not forget to try old favourites such as Stoats Tail, Shrimp Flies, GP's etc which can fish equally well.
The early summer spates tend to be fairly dirty and the bait tends to fish well in those conditions. Once we have had two or three spates the river then runs cleaner and the fly then become the number one choice for many members and some great sport can be had if you hit it right!
Although spinning is allowed in the spring, there are very few anglers that actually use this method of fishing, probably due to the narrowness of the river.
There is no requirement for wading whilst fishing Wick River and as such a pair of rubber boots are sufficient to keep your feet dry, however, many people still wear chest waders to keep their legs dry whilst walking through some of the longer rash that grows in some areas of the river and also keep them dry if it rains.
Keep an eye on the river level (accessed by a link on our home page). A water height of around 1 metre is an ideal height for fly fishing. Below 0.8 metre the water tends to be a bit thin, and above 1.5 metres, is a bit on the high side. The river does not tend to run too high for any length of time and generally comes in to good trim fairly quickly.
Permits
Season permits are available to persons that reside in the Royal burgh of Wick or the Parishes of Wick and Watten. Persons from out-with those areas do not qualify for a season permit but can purchase either daily or weekly visitors permits. Anyone wishing to apply for a season ticket must apply to the committee by the end of February each year. Application forms can be found on this website. Visitors permits are also available on this website or from Hugo Ross's tackle shop in Wick. Please Note: Visitors permits are limited to a maximum of 10 per day. Association rules are distributed with permits.
Access and Parking
Access to the river and parking areas are shown on the river map. Please ensure that you park considerately, and in particular, do not park in front of gates or block off access routes. The association depends heavily on the goodwill of farmers for access and we do not want to give any cause for concern. With that in mind, please also do not walk through fields of crops, take the outer edges, and please take your litter home with you.
We hope you enjoy your fishing on Wick River. Tight Lines!